I loved physics at school; and Newton's laws of motion was among my  favourite concepts, as it helped explain so many things I saw in the real world around me.  Little did I know then that these same laws that govern the world of physics also apply to the world of mental physics, something I discovered much later in life, strangely in the context of an important decision I had to make for myself – a career decision.  I was (or was I?) looking for my next career move.  Coming to a decision on this topic was the context of this situation.
Just like when answering any question in physics at school, even when answering a question life throws at you, one needs to clearly understand the facts and variables, the interplay between them and also what one is solving for.  This situation called for similar clarity, just that this time around, getting clarity was tougher than just looking for facts in a physics problem statement; it meant diving deep into my own psyche.  When I did that, I had a clear summary of facts – I was seemingly in a perfect situation – great job in a very good company, doing very well – no reason to be not happy; but I was not happy.  And as I delved deeper, through layers of my own mind, I realised that while everything was ok on the surface, I was not getting the learning that I yearned for. Years of being in one place had made me very at ease with what I was doing but the learning and the challenge had gone down. And it looked like I was yearning to be uncomfortable again, because that would mean new learning and growth. Having gotten this insight, the solution should have been quite clear.  In my physics exam, I would have found the answer easily!  But this one took way longer than that! 
Getting clarity of what the issue was, should have made me happy.  Strangely, it made me more unhappy, and I realised why – at a subconscious level I always knew what the issue was; I had been unwilling to accept it. I had been mistaking my comfort in the situation for fulfilment, willing myself to accept it as happiness. Now it felt like a curtain had been drawn open inside my mind, forcing me to face this reality I had been hiding from myself – and I wondered why I had been doing that. 
A light flashed in my mind, bringing back the memory of my physics text book page that showed Newton's first law of motion – "an object stays in its state of rest or steady motion (which he called inertia), unless acted upon by a force external to it".  I smiled at the uncanny resemblance of this situation in physics to what was happening to me mentally.  I was in a state of inertia – the cruise mode I was in in the comfort of my current job was not unlike the inertial frame of an object in steady frictionless motion in Newtonian physics.  And it needed a force to wrench it out of that state of inertia.  There was no external force here; the force had to be my inner voice which was yearning for new learning, for getting out of the comfort zone and was thus poking me from inside.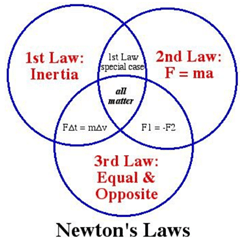 If there was that inner voice acting as the yanking force, then why, I asked myself, had it not worked like Newton's first law would predict?  Well, Newton came to my aid again – the second law of motion indicates that the force needed would be directly proportional to the mass of the object – heavier the object, stronger the force needed.  The object here was the strength of my inertia and comfort – it was huge; I was super-comfortable.  As per the second law, the strength of my will needed to break out of that inertia had to be very high too.  It had been a feeble force in the past, not enough to overcome my inertia, but had now grown to a formidable strength, hence could and was challenging that inertia.  Phew, got it so far… (Thanks, Mr. Newton). 
As one question was answered, the next one was ready to pop up in my mind – so, now that the force is strong enough, I should not be in this state of limbo; by now I should be out of that inertial state.  So why am I not?  Presto – Newton's third law – every action has an equal and opposite reaction.  My inner voice was now strong but it was getting an equally strong pushback from my own mind!  Despite understanding what was making me unhappy, and realising what I needed to do, I was mentally pushing my own desire back with all my intellectual capacity, rationalizing my unwillingness to get out my inertial state with all kinds of logical reasons, the equally forceful opposing reaction to my inner will.
Aha… So, net net, in order to satisfy my desire to learn and grow, I had to get out of my comfort zone; to get out of my comfort zone, I had to overcome my inertia; to overcome my inertia, I had to strengthen my will to do something different to a level strong enough not just to overcome my inertia but also to overcome my own inner reaction to it.  Wow – crystal clear!  And therein lay the solution – I had to strengthen my will further.  I did exactly that – I hearkened to my inner voice, I garnered the will power to do what I really wanted to do, I was able to overcome my inertia and mental resistance, and I made my decision.  Solving this problem in mental physics, like a problem in advanced physics at school, had been challenging and stressful.  But like then, approached logically using the laws of physics, it was easily solved, and did not fail to reward me with that familiar sense of satisfaction and joy!  I still remember the joy and relief I felt when I made that career decision.  And the satisfaction the eternal student in me felt for having relearned Newton's laws of motion in a whole new context!
Musingly Yours.