"My heart leaps up when I behold a rainbow in the sky", crooned Wordsworth. Indeed, few sights can delight and uplift spirits as a rainbow can. As I was reading posts from friends about a lovely rainbow sighted in our vicinity, my thoughts went back to a couple of times during my travels, when I was fortunate to see two of the most gorgeous rainbow sights one could ever imagine – two very different places, two very different settings, both beautiful in their own different ways, both adorned in crowning glory from one edge of the horizon to another, by not one but two parallel rainbows, that is a double rainbow! As I mused down memory lane, I thought I could take a few of you along too, and help you see these beautiful spectacles in your mind's eye…
Rome, Italy, June 2014
Rome – one of the most romantic cities in the world. During our visit there, heavy unseasonal rains threatened to ruin our plans. Unfazed, we stepped out to explore historical Roman ruins. We were very happy to have most of the sites to ourselves and to a handful like us who had ventured out. Having thus completed a lovely tour of a wet, empty Colosseum, finding that it had stopped raining, we had leisurely walked down the street flanked by the Roman Forum on one side and the Imperial Forum on the other, taking our time savouring the fascinating ruins and listening to their mystical legends on our audio guides. Happy but tired, we were discussing where we should take our coffee break, when we heard some commotion behind us, and we turned around to look. Lo and behold, the sight that greeted us left us gaping in amazement and wonder.
Right in front of us, crowning the regal ruins of historical Roman greats, was a large, majestic, perfectly symmetrical double rainbow. From where we stood, it seemed to stretch serenely from over Trojan's forum right up to and beyond the Colosseum. Every single person was transfixed to their spot, looking up in awe at this magnificent spectacle. And as we emerged out of this initial spell, everyone rushed to capture the scene in lenses. Already drenched in rain, we were now soaking into this beautiful scene. The rainbow smiled down at us, as we looked at its beauty from various angles – sometimes over the Colosseum while at other times creating an illusion of Caesar holding it up on his finger.
I kept looking at it for a long time, wondering if it meant to tell us something – that sun and rain both form a part and parcel of life, that those who brave rains are rewarded with beautiful rainbows, that to experience the beauty of life, one needs to face up to its hardships too. What a lovely message and what a lovely way to receive it! We kept gazing at the rainbow until, as the sun emerged from behind the clouds, and the rains took a break, the coloured bands slowly faded, making way for bright white sunshine. The Roman ruins were restored to their usual sun-washed majesty, still beautiful, but sans the diadem they had just donned. A busload of tourists arrived, looking happy that rains had stopped. As we got into a café, we wondered if they knew what bliss they had missed in a bid to escape a few showers!
Ladakh, India, July 2016
This was during our road trip to the northernmost province of India nestled in the Himalayas – for a few days now, we had been exploring and were totally smitten by the uninhibited beauty of some of the highest mountains and mountain ranges in the world. On that particular day, we were in the breathtakingly beautiful Nubra Valley. We set about for a walk to explore the beautiful surroundings of our lodge, which was right on the banks of the Siachen river that flows down the Himalayan slopes.
With the mighty mountains as backdrop and the frigid flow of the river in the foreground, the loveliness of the landscape was indescribable. Far away on the horizon in front of us as well as behind us, we could see bright blue of the sky, but inbetween, there were dark clouds for the most part. While it was not raining in the area we were in, we could safely guess that it was raining in the mountains ahead of us. As I looked up, I could see some brightness begin to peep out, and voila, soon we had bright sunshine streaming down from a small porthole the sun had drilled for itself in the thick veil of clouds. It illuminated one side of the landscape while the other stayed overcast and dark. We were watching this game of light and dark and discussing how conditions were right for a rainbow, when as if on cue, right in front of our eyes, we saw a rainbow form – over the faraway mountains. It came about segment by segment, arc by arc, as if on a huge stage set up for a show, stage lighting was coming up as planned by the set designer. We cheered as we watched with glee, and before we could even fully take in the scene in front of us, a second arc emerged on top of the first – a perfect double rainbow on dusty dusky mountains that were half lit up by sunlight and half dark in shadows of clouds – an already picture-perfect spectacle made even more stunning by this augmentation.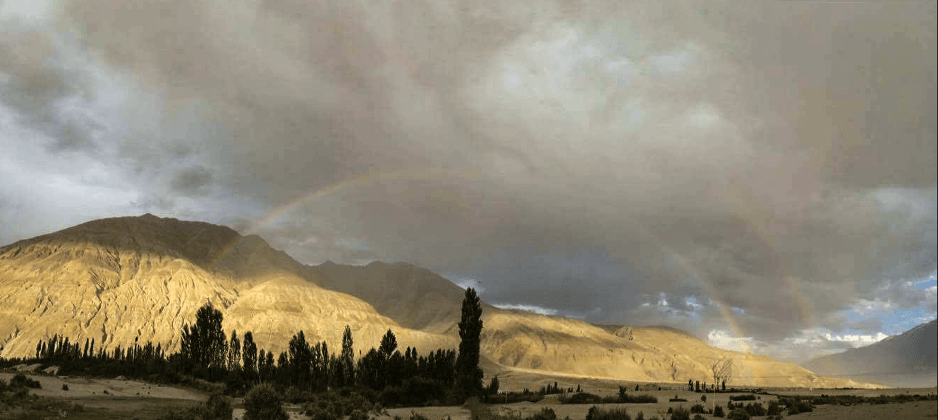 Words cannot describe the beauty of what our eyes saw. The most thrilling part of the experience was to see the two rainbows develop in front of our very eyes; I get goosebumps even thinking of it. Our attempts at capturing this on camera were only partly successful, not because we didn't get beautiful pictures, but because reality was way more beautiful and colourful than what a lens could ever capture. We kept gazing on, feasting our eyes on the scene in front of us. Again, nature was showing us how sun, shade and rain together make up the palette with which life's picture is painted; that life always has a rainbow waiting for you; all you need is the patience to find it and the attitude to look for it!
For the colour they bring and the joy they spread both in the skies and in our lives, here's a bow to beautiful rainbows!
Musingly Yours.